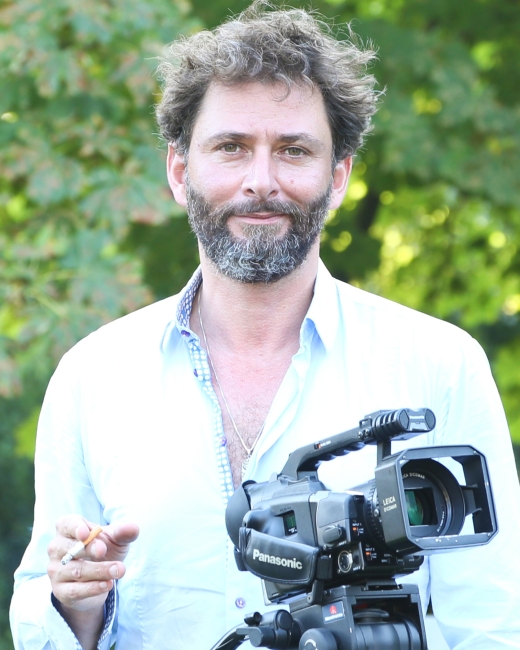 Vermillion Nights and Ultramarine Days
A tribute to Ludwig Meidner
February 17, 2017, 7 p.m., Kunst Archiv Darmstadt
To mark the fiftieth anniversary of the death of this contradictory artist and visionary rascal, the Frankfurt director Stéphane Bittoun has produced a multimedia evening located somewhere between staged reading and film documentary – a search in the form of texts, images and and accounts of companions.
Where are the slight, soft-muscled girls, the June blondes, the perverse snakes, the insatiable kissers? Where are the the slim, silken boys, the autumn blonds, the embracers – the bedewed, unchaste, laughing Ephebes?!
The mirrors grimace. Lamps glow in wrinkled frowns. The ceiling mirrors my sullen hair-do. My fingers jitter like waltzing mice on a pulsating marble plate, circus-ring-round. I'm in a café drinking tea. The clock tower smirks. The rhinoceros barks! What are the shoemakers calling out to the world these days?!!!!
(from Ludwig Meidner, … The Sea of Stars at My Back…, 1918)
Stéphane Bittoun works as director, author and actor (among others at Schauspiel Frankfurt) and can frequently be heard as voice actor, in TV-documentataries, audio books and at readings. In 2012 Bittoun was nominated for the prestigious George Tabori Award with his cross-media presentations between theatre, audio drama und film.
concept, film and production: Stéphane Bittoun
actors: Mogli Cruse, Moritz Brendel, Stéphane Bittoun
in the film: Cornelia von Plottnitz, Jörg von Kitta-Kittel, Erik Riedel, To Kühne (the painting hand)
camera: Alexander Düsterberg
film editing: Alexander Düsterberg, Stéphane Bittoun
music: Christian Maier
technical support: Sebastian Schackert
assistant: Suzana Beljan
advisors: Cornelia von Plottnitz, Erik Riedel
The premiere took place on March 16, 2016 at the Stadthalle Hofheim.

Initiated by the Ludwig Meidner Gesellschaft e.V.